Hoy, revisitamos nuestra sección [5 enlaces] [5 links], que hace mucho tenemos abandonaita ... con nuestro refritito sevillano ...
1) Performance pay for teachers: what is the true cost? ... in the guardian
The promise of a pay rise will not keep teachers in the field. Instead, they need opportunities to assume real leadership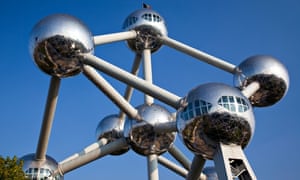 Creating formal structures through which to acquire and share expertise is the way ahead in leadership, not performance pay. Photograph: Alamy. Alamy
Weekday mornings are largely the same: bleary-eyed coffee, quick shower, a quiet bit of toast as that morning's round-up of CBeebies pacifies our kids. By 7.30am it's out the door, where the morning routine begins again. Only this time with 30 adolescent girls.
As house parents at the
Abbotsholme School
, an independent school in rural Staffordshire, my husband and I embrace the chaos of communal life. We like hearing about the girls' daily highs and lows, helping them with homework, and mentoring them to make positive choices. As with any work involving young people, the job requires flexibility, humour, creativity and patience. In short, it's a labour of love.
Or is it?
With Michael Gove's introduction of performance related pay for teachers as of September 2014, the relationship between teachers' salaries and pupils' performance is at the forefront of discussions within senior management.
Recently our school garnered attention from the national press following headmaster Steve Fairclough's speech to the
Westminster Education Forum
. Reports highlighted some controversial views, particularly his proposal that teachers' pay be linked to his "subjective" assessment of teachers' personal qualities. In the wake of these reports, teachers at Abbotsholme have had reason to reflect on what motivates them to teach and by what measures their teaching should be judged.
In my native America, folk wisdom has it that cash is king. It should then follow that the implementation of performance pay within a variety of state and independent-school systems across the US has improved teacher and pupil performance over time. But here's the thing: it hasn't.
A 2012 report from the
National Center on Performance Incentives
(NCPI), a nonpartisan research group based at Vanderbilt University and funded by the
US Department of Education
found no significant link between incentivised pay schemes for teachers and student performance. In addition to results from a five-year longitudinal study (2007-2011), the NCPI's more recent two-year study of incentive pay programmes within 159 middle schools in Round Rock, Texas found no statistically significant increase in student achievement as measured by standardised tests in English, maths, science, and social studies. This, despite the allure of $5,000 (£3,000) bonuses for successful teachers.
2)
5 greatest talks on how to present before an audience
in Educational technology and mobile learning .
May 8, 2015
3)
It's not about the technology
…or is it? in
The Principal of Change
Stories of learning and leading by @gcouros.
One thing that I believe in deeply in my work is that we should always focus on relationships and learning, before technology, and if technology can't enhance those things, it is a very tough "sell" to educators. The focus, although on relationships and learning first, is also on the use of technology. They are not separate.
Yet I have seen people say that it's not about "technology", it's about "pedagogy". In fact, I had this conversation with
Brian Aspinall
on Twitter recently which sparked this thought. This statement could easily be taken as separating the two ideas of "pedagogy" and "technology", and can sometimes provide an easy "out" for many educators who see the use of technology as irrelevant in their classrooms. If it about "pedagogy" and NOT "technology", then why would I ever have to use it? I will have to be honest; there are a lot of classrooms that I walk into that have very little use of technology with students in their learning, other than the occasional visit to the computer lab. Sometimes when the statement is made, "it is not about technology, it is about pedagogy", you then hear the roars of approval, and off we go on our merry way with nothing changing for many students.
4)
Teaching is dead, long live the teacher!
in David Truss :: Pair-a-dimes for Your Thoughts.
Reflections on Education, Technology and Learning by
@datruss
April 28, 2015
|
education
,
future
,
Inquiry Hub
,
instructional
Teaching is dead, long live the teacher!
Technology is creeping into every classroom. I say 'creeping' because a large part of a typical student's day at many schools can still be defined by activities involving paper, a pen or pencils, and worksheets or textbooks… Useful tools that should only have a small role in teaching today. The problem is that teaching, where the tools are primarily used for sharing static information, is dead.
A large part of a typical student's day at many schools can also be defined by the traditional role of a teacher as the expert in the room, sharing content. A useful role that should only have a small part in teaching today. The problem is that teaching, where the teacher is primarily seen as a content delivery person, is dead.
Teaching as we have known it in the past may be dead, but the role of the teacher is more important than ever before!
The King is dead, long live The King! …is a traditional proclamation made
following the accession of a new monarch in various countries.
Teaching is dead, long live the teacher! …is a new proclamation made
following the rise of the role of the teacher in the field of education.
5) Y por último ,
[Webinar] How To Start Teaching Digital Citizenship To Students
in EdTech Review
The future is digital, no two ways about it. However, developing technology also poses its share of concerns, especially with regards to its safe and responsible implementation.
Whether you're a teacher, a student, a parent or an administrator, being part of a comprehensive digital citizenship plan is necessary. As an educator, a new primary responsibility of teaching students how to harness this technology has emerged.
Related
If you wish to adopt the Digital Citizenship and Internet Maturity curriculum in your school, visit the
website
to know more.
Innovation Specialist, Google Certified Teacher and Apple Distinguished Educator Tanya Avrith brings you the perfect way to create digital citizenship plans that help students collaborate and create digital identities. On the 12th of May, Tanya will be showing educators how to create the framework required to start teaching digital citizenship to students so that they are able to make effective use of the internet with tangible strategies that are directed towards educators, students and parents alike.
Les aproveche ...
Fuentes: [ varias]