To Noel Willmett
18 May 1944
10a Mortimer Crescent NW 6
Dear Mr Willmett,
Many thanks for your letter. You ask whether totalitarianism, leader-worship etc. are really on the up-grade and instance the fact that they are not apparently growing in this country and the USA.
I must say I believe, or fear, that taking the world as a whole these things are on the increase. Hitler, no doubt, will soon disappear, but only at the expense of strengthening (a) Stalin, (b) the Anglo-American millionaires and (c) all sorts of petty fuhrers° of the type of de Gaulle. All the national movements everywhere, even those that originate in resistance to German domination, seem to take non-democratic forms, to group themselves round some superhuman fuhrer (Hitler, Stalin, Salazar, Franco, Gandhi, De Valera are all varying examples) and to adopt the theory that the end justifies the means. Everywhere the world movement seems to be in the direction of centralised economies which can be made to 'work' in an economic sense but which are not democratically organised and which tend to establish a caste system. With this go the horrors of emotional nationalism and a tendency to disbelieve in the existence of objective truth because all the facts have to fit in with the words and prophecies of some infallible fuhrer. Already history has in a sense ceased to exist, ie. there is no such thing as a history of our own times which could be universally accepted, and the exact sciences are endangered as soon as military necessity ceases to keep people up to the mark. Hitler can say that the Jews started the war, and if he survives that will become official history. He can't say that two and two are five, because for the purposes of, say, ballistics they have to make four. But if the sort of world that I am afraid of arrives, a world of two or three great superstates which are unable to conquer one another, two and two could become five if the fuhrer wished it.1 That, so far as I can see, is the direction in which we are actually moving, though, of course, the process is reversible.
Two and two could become five if the fuhrer wished it.
As to the comparative immunity of Britain and the USA. Whatever the pacifists etc. may say, we havenot gone totalitarian yet and this is a very hopeful symptom. I believe very deeply, as I explained in my book The Lion and the Unicorn, in the Englishpeople and in their capacity to centralise their economy without destroying freedom in doing so. But one must remember that Britain and the USA haven't been really tried, they haven't known defeat or severe suffering, and there are some bad symptoms to balance the good ones. To begin with there is the general indifference to the decay of democracy. Do you realise, for instance, that no one in England under 26 now has a vote and that so far as one can see the great mass of people of that age don't give a damn for this? Secondly there is the fact that the intellectuals are more totalitarian in outlook than the common people. On the whole the English intelligentsia have opposed Hitler, but only at the price of accepting Stalin. Most of them are perfectly ready for dictatorial methods, secret police, systematic falsification of history2 etc. so long as they feel that it is on 'our' side. Indeed the statement that we haven't a Fascist movement in England largely means that the young, at this moment, look for their fuhrer elsewhere. One can't be sure that that won't change, nor can one be sure that the common people won't think ten years hence as the intellectuals do now. I hope 3 they won't, I even trust they won't, but if so it will be at the cost of a struggle. If one simply proclaims that all is for the best and doesn't point to the sinister symptoms, one is merely helping to bring totalitarianism nearer.
You also ask, if I think the world tendency is towards Fascism, why do I support the war. It is a choice of evils—I fancy nearly every war is that. I know enough of British imperialism not to like it, but I would support it against Nazism or Japanese imperialism, as the lesser evil. Similarly I would support the USSR against Germany because I think the USSR cannot altogether escape its past and retains enough of the original ideas of the Revolution to make it a more hopeful phenomenon than Nazi Germany. I think, and have thought ever since the war began, in 1936 or thereabouts, that our cause is the better, but we have to keep on making it the better, which involves constant criticism.
Yours sincerely,
Geo. Orwell
[XVI, 2471, pp. 190—2; typewritten]
[en construcción permanente]...
...andaba yo escribiendo sobre Franco, la educación, los textos y el #elearning cuando el maeztro
@drotorrent
me interpela y me enseña el laboratorio de máquinas sociales del MIT ... que va a analizar todos los tweets a lo largo de la historia (así lo titula el ABC en un artículo titulado:
El MIT estudiará todos los tuits de la historia
., y en este otro artículo
Twitter y el MIT crean un nuevo laboratorio para analizar cada tuit
.. ) ... PENSAR en cosas aparentemente inconexas, de una manera simultánea y recurrente, contradictoria, violenta si se quiere ... , al contrario de lo que podría pensarse (igual que leer 3 o 4 libros diferentes a la vez) no distrae, no confunde ... sino provoca resonancias ... ESTADOS ... diferentes ..y como en la desescuela de la red nos aplicamos , aquí os traigo este proyectillo ... muy cercano a lo que creemos está siendo la constitución lenta , sin prisa pero sin pausa del NOW ... el nuevo orden mundial .. puesto en marcha desde 1984 (con algunos previos en los 70 con Kissinger) ... con algunos acontecimientos técnicos, filosóficos, políticos y culturales sobrevenidos .. o si prefieren .. INDUCIDOS ... 8 millones de euros ... que dirige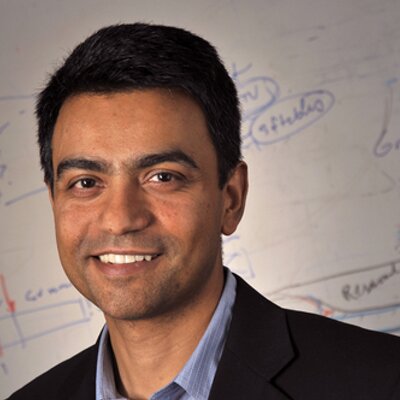 Y todo ello, teniendo en mi memoria, otra variable, un proyecto sucedido en Ecuador (al amparo de Correa? ..o a pesar de Correa..) del que aún no hemos hablado lo suficiente ... aunque quizá , en estos momentos, no sea necesario ... el caso es que las ideas se entrecruzan y van abriendo campos , resonando.. que
algunos llamarían mórficos
..
Lo primero que he traido es una carta de Orwell donde explica antes de escribirla las ideas de 1984 ... ilustrado con el anverso de los billetes de dólar USA ...
me he puesto manos a la obra a investigar .. lo primero que he encontrado .. el director del laboratorio
Deb Roy
Cognitive scientist
Deb Roy studies how children learn language, and designs machines that learn to communicate in human-like ways. On sabbatical from MIT Media Lab, he's working with the AI company Bluefin Labs
...
@dkroy
que fue CEo y creador de bluefin labs .. que el 5 febrero de 2013 fué adquirida por twitter , como podemos ver en su blog ...
Tuesday, February 5, 2013
|
By Ali Rowghani () [23:59 UTC]
Today we're happy to announce that we have acquired
Bluefin Labs
, a leading social TV analytics company that provides data products to brand advertisers, agencies, and TV networks. We believe that Bluefin's data science capabilities and social TV expertise will help us create innovative new ad products and consumer experiences in the exciting intersection of Twitter and TV.
This acquisition reflects our commitment to the social TV market, and builds on our
exclusive partnership with Nielsen
announced in December to develop the Nielsen Twitter TV Rating, the centerpiece of social TV measurement based on Nielsen's SocialGuide platform. We intend to honor existing Bluefin customer contracts, but we will not continue to sell Bluefin's product suite beyond the existing contracts. We plan to collaborate closely with Nielsen and SocialGuide on product development and research to help brands, agencies, and networks fully understand the combined value of Twitter and TV.
que , casualmente , tambie´n, oh! sorpresa es un chico TEDX ... algunos de los que andan creando la nueva educación online , con los MOOC'os ... los videitos .. y demás formas heredadas del nacimiento del cine y su incipiente aprovechamiento político por muchas de las "sectas" o "facciones" o " cristianas (del que escribimos hace mucho en este blogcito...)
.. el título es esclarecedor ..
lo tercero que he encontrado .. en el blog de twitter .. el anuncio de la creación del propio LABORATORIO de maquinas sociales...
Wednesday, October 1, 2014
|
By Mark Gillis (), Academic Partnerships [18:37 UTC]
Today,
@MIT
announced
the creation of the Laboratory for Social Machines, funded by a five-year, $10 million commitment from Twitter. Through
@Gnip
, MIT will also have access to our full stream of public Tweets and complete corpus of historical public Tweets, starting with Jack Dorsey's first Tweet in 2006.
This is an exciting step for all of us at Twitter as we continue to develop new ways to support the research community. Building on the success of the
Twitter Data Grants
program, which attracted more than 1,300 applications, we remain committed to making public Twitter data available to researchers, instructors and students. We've already seen Twitter data being used in everything from
epidemiology
to
natural disaster response
.
The Laboratory for Social Machines anticipates using Twitter data to investigate the rapidly changing and intersecting worlds of news, government and collective action. The hope is that their research team will be able to understand how movements are started by better understanding how information spreads on Twitter.
We look forward to the innovative research generated by the Laboratory for Social Machines and to further increasing Twitter's footprint in the research community. For more information about the Laboratory for Social Machines, please visit
http://socialmachines.media.mit.edu/
.
También os dejo la web del laboratorio y como se presenta ...
Laboratory for Social Machines
Designing media technologies for social engagement and change

In a time of growing political polarization and institutional distrust, social networks have the potential to remake the public sphere as a realm where institutions and individuals can come together to understand, debate and act on societal problems. To date, large-scale, decentralized digital networks have been better at disrupting old hierarchies than constructing new, sustainable systems to replace them. Existing tools and practices for understanding and harnessing this emerging media ecosystem are being outstripped by its rapid evolution and complexity.
The Laboratory for Social Machines is dedicated to:
developing technologies that analyze social systems, map the public sphere of beliefs, opinions, and events to create information feedback loops that close the gap between public will (constitutions, laws, ordinances) and collective behavior (customs, habits)
building tools for institutions and individuals to collaborate openly by debating and setting shared goals, then organizing themselves into sustainable networks capable of achieving social, cultural and political progress
deploying social machines — networked human-machine collaboratives — alongside external partners in real-world situations with transparent, measurable objectives
What We Plan to Build
Based at the
MIT Media Lab,
the
LSM
will develop methods and technologies in two main areas:
Grounded semantics and network analysis that enable large-scale analysis of content (semantics, sentiment) grounded in real-world events, and connections (social graphs, content links) within and across public social media, mass media and other data streams. The aim will be to create a networked, accessible, continuously updated database as a source of public sphere analytics.
Pattern discovery, data visualization and mobile app technologies that analyze interaction patterns in relevant social systems, reveal the shared goals and passions buried in the mass of media analytics and help create new forms of public communication and social organization.
Where We Plan to Deploy
We will work with external partners to experiment in areas of public communication and social organization where people and machines collaborate on problems that can't be solved manually or through automation alone, including:
Journalistic organizations, where scaled data gathering, analysis and visualization are tasks ideally fit for machines –but hypothesis, investigation, interpretation, analysis and storytelling are best left to people


Social and political reform movements —

on issues such as gender and economic inequality, or political corruption — where ubiquitous mobile technologies and new information feedback loops can create "mutual visibility" among institutions and individuals–increasing accountability and serving as force multipliers for change
People
SENIOR ADVISOR AND VISITING SCHOLAR

PREETA BANSAL

Preeta was Solicitor General of the State of New York, General Counsel & Senior Policy Advisor in the Obama White House for the Office of Management and Budget, a global general counsel for HSBC, and Chair of the U.S. Commission on International Religious Freedom. She is currently also a Visiting Scholar at Harvard Law School.

RESEARCH ASSISTANT

SOPHIE CHOU

Sophie completed a BS in Computer Science with a focus on Machine Learning at Columbia University and is an MAS student at the LSM.

RESEARCH SCIENTIST

PHILIP DECAMP

Philip completed a PhD in data visualization at the Media Lab and leads platform development at the LSM.

VISITING SCHOLAR

ALLEN GORIN

Allen invented AT&T's "How May I Help You?" voice natural language technology, deployed nationally in 2001 and handling millions of callers each month. He is an IEEE Fellow, recipient of the AT&T Science & Technology Medal and the AT&T Strategic Patent Award. He then led research into exploiting the fusion of content and network context. He is also affiliated with the JHU HLT CoE.

RESEARCH ASSOCIATE

TARANA GUPTA

Tarana has a MS in UX Research & Technology from NYU and is an interaction designer/researcher at the LSM.

VISITING SCIENTIST

JAMES KONDO

James is Vice President at Twitter and Adjunct Professor at Hitotsubashi University. Formerly, James was a Special Advisor to the Cabinet of Japanese Government, and used to run the G8 Global Health Summit.

RESEARCH ASSISTANT

PERNG-HWA (PAUL) KUNG

Paul is a first-year graduate student at the LSM. He has a Master in Computer Science from National Taiwan University specializing in network analysis and machine learning.

RESEARCH ASSISTANT

PRASHANTH LAVANYA

Prashanth is a first-year graduate student at the LSM. He has a Bachelor of Engineering from Anna University in India. His interests include building applications that involve machine learning and neural networks.

RESEARCH ASSISTANT

Neo (Mostafa) finished a Master in Mathematical Modeling and Scientific Computing at Oxford University and is focusing at the LSM on exploratory data analysis and unsupervised pattern discovery in social media data.

ADMINISTRATIVE ASSISTANT

HEATHER PIERCE

Heather completed a BS in Marketing Communications at Emerson College and is the Administrative Assistant to the LSM.

RESEARCH SCIENTIST

William is an award-winning media critic and New York Times bestselling author, and was director of The Crowdwire project. At the LSM he's developing new tools for social discourse.

DIRECTOR

Deb is an associate professor at the MIT Media Lab, and Chief Media Scientist at Twitter.

RESEARCH ASSISTANT

MARTIN SAVESKI

A first-year graduate student at the LSM, Martin received a Master in Data Mining and Knowledge Management from University Pierre and Marie Curie (Paris VI) and Polytechnic University of Catalonia. Martin's research interests include large-scale machine learning, network analysis and natural language processing.

RESEARCH STRATEGIST

RUSSELL STEVENS

Russell received a Master in Public Policy from Harvard prior to a career in communications strategy. He focuses on research planning and deployment at the LSM.

RESEARCH SCIENTIST

BEN SWANSON

Ben finished a PhD in Natural Language Processing at Brown University.

RESEARCH ASSISTANT

IVAN SYSOEV

Ivan received a Master in Computer Science from Georgia Tech and is interested in artificial intelligence and human cognition at the LSM.

RESEARCH ASSISTANT

Soroush is a Ph.D. candidate at LSM where he is developing a computational model of rumors in social media with the goal of creating a real-time rumor verification system for social media. Soroush's research interests include natural language processing, machine learning and complex systems. Soroush received his M.Sc in the Cognitive Machines group and his Sc.B. in computer science from MIT.
(to be continued) ...d e-lógicas y di a-lógicas e I-lógicas ... !!!!